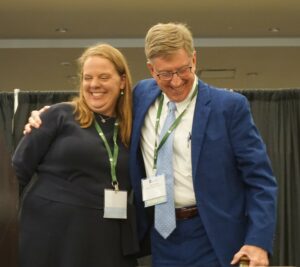 We're BAAACK!
After several continuations of our hotel contract and two years in the making, the VBA finally held an in-person meeting on October 8, 2021, at the South Burlington Doubletree Conference Center. Despite the uptick in delta-variant cases which came after our point of no return for holding the event, over 100 loyal conference-goers came to our Annual Meeting. The masks-required event was a huge success under the circumstances, and we want to thank each and every attendee, speaker and sponsor for making the event shine!
The reduced footprint event felt perfect and really gave members a chance to have more meaningful conversations.  A bit less crowded and frenetic, the Annual Meeting had a relaxed and joyful feel. People were certainly happy to finally have some sorely missed in-person contact with friends and colleagues.
We kicked off the morning with a plenary session on the current state of motions practice in the courts.  An all-star panel of Judge Samuel Hoar, Judge Megan Shafritz and attorneys Erin Miller Heins and Ritchie Berger shared countless tips and tricks about motion practice in today's new normal. After a break for extended breakfast and sponsor visits, attendees chose between a session on Implicit Bias covering Race, Education and Critical Race Theory or A Brain and Body Mindfulness session on well-being.  The Implicit Bias Panel, which was led by Attorney Xusana Davis, Dr. Etan Nasreddin-Longo and Attorneys Beth Novotny and Bor Yang, gave rise to very engaging discussions about race and education, eating into the lunch break. In the wellness offering, Samara Anderson, gave attorneys real tools for destressing on a daily basis, with attendees remarking on their noticeably peaceful vibe as they headed into lunch.
It was obvious walking into the lunchroom just how much everyone missed seeing each other face to face.  Smiles and hugs abounded.  VBA President Elizabeth Kruska addressed the membership for the business meeting, commencing with the minutes, treasurer's report and memorial.  She then did the honors of inducting our largest Emeritus Members class in history, congratulating each of the new 26 members and honoring those present with their plaques. Those present to receive their plaques included: Deb Bucknam, Bill Davies, Ted Joslin, David Sunshine, Alan Thorndike and George Vince. President Kruska then surprised Samara Anderson with her President's Outstanding Service Award (an engraved lotus keychain) for Samara's countless volunteer hours in providing mindfulness training for our members.  President Kruska next gave her President's Award to the entire membership for all the surviving and thriving we've all done over the past 18 months of the pandemic and vowed to plant a tree at the VBA office in honor of the VBA membership.
The meeting continued with the Attorney General's Lawyers Fighting Hunger campaign awards, given by Deputy AG and VBA Board Member Joshua Diamond, with a presentation from the Vermont Food Bank and announcements regarding stellar firm participation and top donations from Downs Rachlin Martin; Bauer Gravel Farnham; and the Vermont Paralegal Organization. There were also reports from the Vermont Bar Foundation and the Access to Justice Campaign by Renee Mobbs and Bonnie Badgewick and this year's poverty law fellow, Emily Kenyon. President Kruska's last order of business was to honor departing VBA Board Members Lieutenant Governor Molly Gray and Elizabeth Novotny for their invaluable service.
Upon the transfer of the gavel to VBA's new President Bob Fletcher, President Fletcher's first task was to award outgoing President Kruska with the VBA President's chair.  While the chair is normally given during the VBA Board Meeting, it was a nice change to honor Elizabeth with the chair in front of the smaller meeting crowd, where she actually got to test it out for our photo ops! President Fletcher then spoke of the report of the Workforce Development Committee, outlining some of the particular challenges the VBA will be taking on in the upcoming year, to help attract and keep young lawyers who want to practice in Vermont. President Fletcher, running a tight ship, kept his remarks short, so attendees could attend their next educational session on schedule.  Congratulations to President Bob Fletcher and to all the award winners!
The early afternoon was replete with hot topics, with half of the attendees learning about vaccines in the context of employment, clients, mandates and privacy from presenters Elizabeth Wohl, Ben Traverse and Alexandra Clauss. Our DEI offerings continued in the other room, with a packed and knowledgeable panel tackling the topic of how COVID disproportionately affected certain jobs, people and businesses complete with statistical analyses and in-depth discussions about the path forward.  Panelists Mathew Barewicz, Cary Brown, Xusana Davis, Steve Ellis, Curtiss Reed and Jim Rodgers took questions from the audience and kept the discussion going well after the session.
Our in-person event culminated with our own Bar Counsel, Mike Kennedy, presenting us with a collection of hilarious Was that Wrong? stories from across the country and real ethics lessons to be considered in the wake of some truly memorable professional conduct disasters. This session was rounded out, during and after, with a cash bar and hors d'oeuvres to keep the attendees sated and happy.  And for an added bonus, being peak foliage, the carpool ride home was gorgeous!
While not part of this photo album, the annual meeting continued for a full week after October 8th with eight webinars throughout the following week, making the event a true hybrid meeting.  Attendance was steady and audiences were engaged throughout the week, commencing with an informative presentation on trauma informed lawyering from Breanna Weaver and Lisa Hayes on Monday.  Tuesday, we had a criminal law presentation on treatment courts by Alfonso Villegas, Sarah Reed, Judge Mary Morrissey and Elliott McElroy.  Wednesday was jam packed with three seminars: Apologies in Mediation with Carl Schneider and your Dispute Resolution co-chairs, Fastcase Training for Vermont Attorneys with Erin Page and Wellness Tips & Resources for Legal Employers from Mike Kennedy, Ian Carleton and Bonnie Badgewick.  On Thursday, we had Jared Correia, back by popular demand, to discuss the total package of law practice management office efficiencies.  The annual meeting completed on Friday with two sessions: the Appellate Law Year in Review with Bridget Asay, Ben Battles and Emily Wetherell and a presentation on Remote Civil Jury Trials with Washington Judge Sean O'Donnell, Justice Karen Carroll, trial consultant Noah Wick, and attorneys James Levins and Coreen Wilson.
Of course, the entire meeting, both in-person and virtually, could not have been made possible without our generous and knowledgeable sponsors: ABA Retirement Funds, ALPS, Clio, Cosmolex, Decisis, Fastcase, First American Title, Manzo Digital Forensics & Investigations, MJD Legal Nurse Consulting, Pinnacle Financial, Tabs3 and TCI. Thank you to those who came out to see us in-person and meet with our members, those who provided swag and prizes and those who provided us with informative ad snips for our virtual sessions.
All of us here at the VBA appreciate the loyalty, generosity and positive spirit of our sponsors, our attendees and our presenters, who made our hybrid VBA Annual Meeting a great success!  Until next time, we leave you with pictures…