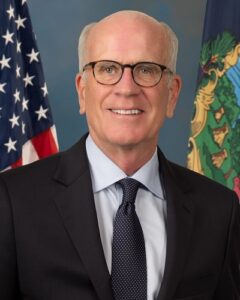 Vermont's newest senator, Peter Welch, will be on hand for the VBA's Annual Meeting at the Hilton Lake Champlain on Sept. 29.  Welch, of course, has been a member of Vermont's congressional delegation since 2006 when he was first elected to our state's sole seat in the U.S. House of Representatives.  In 2022 he was elected to fill the senate seat vacated by the retirement of Patrick Leahy.
Sen. Welch's roots are deep in Vermont law. After law school at UC Berkeley, he settled in White River Junction,, where he worked as a public defender before founding a small law practice. He was first elected to represent Windsor County in the Vermont Senate in 1980. In 1985, he was unanimously elected by his colleagues to lead the chamber, becoming the first Democrat in Vermont history to hold the position of President Pro Tempore.
Senator Welch will be offering remarks during the business meeting on Sept. 29.  Registration for the VBA annual meeting is open now.  To see the day's agenda, including the CLEs on offer, and to register, click here.