The VBA Nominating Committee met on December 13, 2019 and recommended that Robert Fletcher become President-Elect of the VBA Board of Managers. The Nominating Committee also recommended that Katelyn Atwood, incumbent, run unopposed and that there be two contested elections for the remaining two board seats: Kelsey Bain vs. James Rodgers, incumbent and Alexandrea Nelson vs. Alfonso Villegas. The Treasurer and Secretary seats would remain unchanged. Regarding the VBA Delegate to the American Bar Association House of Delegates, the Nominating Committee accepted nominations for a contested election between Fritz Langrock and Eleanor Spottswood. Statements of interest and head shots for each of the non-officer nominees are below. The Nominating Committee Report is HERE.
For the VBA Board of Managers: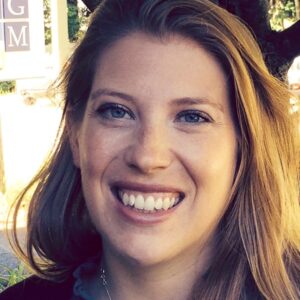 Katelyn Atwood:
I serve as a public defender in Rutland County, practicing criminal and juvenile defense. I graduated from Vermont Law School in 2011, and I have been practicing in Vermont since 2014. It's been my honor to serve on the VBA Board these last two years, and I would be very grateful for the opportunity to continue serving on the Board to help further the Board's important work as advocates for Vermont's attorneys. I believe that having a young voice on the Board is vital to keeping the Board relevant to young and new lawyers. I also hope to engage the Board in an active conversation about how to attract young lawyers to our State.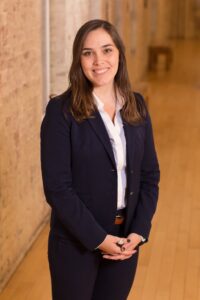 Kelsey Bain:

I am a third-year associate at Donovan O'Connor & Dodig in Bennington.

I am licensed and practice in both Vermont and Massachusetts.

My primary practice areas are plaintiff's litigation, criminal defense, and family law.

I graduated from Vermont Law School in 2017.

I have been committed to volunteer work throughout my life, and this commitment has not diminished since becoming an attorney. I am currently in my second term as the secretary for the Bennington Bar Association, and I cherish the opportunity this provides me to become more involved in my local legal community.

Since becoming an attorney, I have served on the board of directors for Berkshire Center for Justice, a non-profit in Berkshire County Massachusetts that provides legal services to individuals who otherwise would not have the means to access representation.

I served two years as a board member for on the Friends of the Milne Public Library and two years on the Access to Justice Campaign Committee for Community Legal Aid.

Last year I served on the steering committee for Berkshire Young Professionals.

I also volunteer my time teaching classes for the Pro Se Education Program in Bennington County and volunteering at my local library.
Serving on the Board of Managers would be an opportunity for me to give back to the Vermont legal community and address issues currently facing the bar.
As a young attorney, of particular interest to me is promoting job networking and counseling services to recent law school graduates.
I would like to work towards finding new ways to keep Vermont Law School graduates in Vermont and to attract out of state law school graduates to Vermont.
I would also like to create and strengthen programs that focus on mental health and substance abuse issues in the legal profession.
As an attorney practicing in Bennington County, I've found it can be difficult to take advantage of many of the opportunities available in Montpelier and Burlington.
I would like to develop and expand our current CLE program to create more substantive CLE opportunities in some of the more remote parts of the state.
I look forward to the opportunity to serve the bar and to work on addressing these issues and others in the year to come.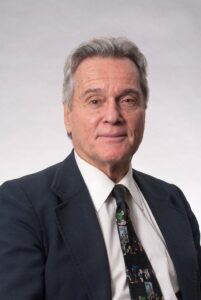 James Rodgers: I have served in the past as a member of the VBF Board from 2003-2008 and then over the next 7 years as a volunteer member of the committee evaluating loans to prospective candidates. This gave me the chance to meet and join with a number of VBA members from whom I learned a great deal about the role of the VBF and the VBA in promoting justice and equal access to legal services. I have also been part of the Inns of Court in Vermont, where informal contact between and among members of the bar and sitting judges in the Vermont courts has promoted communication and comity. I would continue that effort as a continuing member of the Board's Bar Managers. My experience on the VBA Board over the last 18 months has renewed my respect for and commitment to the goals of the VBA, as summarized in its mission statement: "The Vermont Bar Association promotes the highest standards of skill, ethics and professionalism within an inclusive legal profession; fosters understanding and respect for the rule of law; supports equal access to a fair and effective system of justice; and provides valuable resources to its members." I currently serve on the Membership Committee as well as on the VBA working group addressing demographic challenges of the legal profession. I also serve as the liaison to the Section Chairs of the Bankruptcy and the Tax Law and Accounts Sections.

Most of the members of the VBF Board and VBA Board of Managers do not come from Windham County. As a member from Windham County, I have spoken as often as possible on behalf of the views and experiences of VBA members from the southern counties to help ensure that they are directly represented and understood. I believe that my advocacy as a Bar Manager has already encouraged a feeling of collaboration between attorneys who often work far apart and who therefore only meet within an adversarial context.

I hope to continue this work over the coming two years and ask again for the support of those who voted for me in 2018.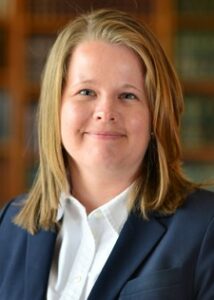 Alexandrea Nelson
: I am originally from Salt Lake City, Utah where I received my law degree from the University of Utah. I have been practicing in Vermont for a little over two years. I spent my first year in Rutland clerking for Circuit Judge Peter Hall. After my clerkship, I joined Sheehey Furlong & Behm where I practice criminal and civil litigation.
I am very interested in joining the VBA Board of Managers. In particular, I am interested in working with the VBA to develop strategies to attract and retain young lawyers to practice in Vermont. In my experience, it is difficult for Vermont to attract young lawyers because of the pay gap between large markets and Vermont. However, I believe Vermont offers young attorneys a unique opportunity to engage in practical legal work far sooner than their big law counterparts. I believe the VBA could be integral in working with the community to find strategic ways to close the pay gap young Vermont practitioners experience. I am also interested in working with the VBA to find ways to promote the value a Vermont practice offers young attorneys.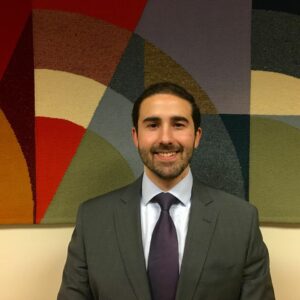 Alfonso Villegas:

After graduating from Vermont Law School in 2017, I began a job with the Washington County State's Attorney Office. I sit on the Washington County Adult Drug Treatment Court – one of three in the state. The reason I am running for a seat on the VBA Board of Managers is because I hope to elevate the perspective and challenges of new attorneys in Vermont. I also hope to bring a sense of excitement to the VBA. The Vermont bar is going through a period of generational change. Older attorneys are retiring and a younger, more diverse bar is needed to fill their roles. A dearth in legal representation greatly impacts the public's access to justice and slows the court process, thus increasing costs for everyone. Ensuring a stable and growing bar will help ease bottlenecks in the court. Furthermore, ensuring that young attorneys that are willing to take positions in rural areas are, and feel, supported will benefit Vermonters everywhere by ensuring access to justice. The VBA has the opportunity to encourage more mentorship and engagement between experienced and younger attorneys through trainings, networking events, and local bar meetings. Indeed, we should leverage the resources that local bar associations have and encourage more engagement to build a more collegial and collaborative bar. I would like to understand more about the challenges that new attorneys and law students in Vermont are facing. By understanding those challenges, we can address them and make Vermont a better place to attract and retain skilled and talented attorneys.
For VBA Delegate to the ABA: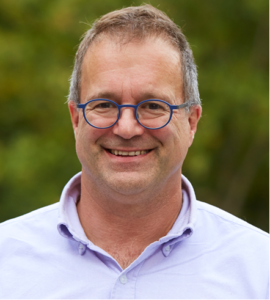 Fritz Langrock: I have been practicing law in Vermont with Langrock Sperry and Wool for the past 26 years. I graduated from UCLA law school in 1988 and practiced in Chicago for four years before moving home to Vermont with my wife Adela to raise our family. I joined Langrock Sperry & Wool in 1992. I became a member of the American Bar Association in 1988 and a member of the Vermont Bar Association when I came back in 1992.
I have been representing the Vermont legal community in the ABA House of Delegates for 12 years. First, as Vermont's ABA State Delegate for 9 years from 2007-2016. Now, I am currently in my third and final year as a member of the Board of Governors, representing ABA District One (Vermont, Rhode Island, New Hampshire and Maine). I am on the Board's Finance Committee, and I chair the Board's Subcommittee on Investments. I am also liaison from the Board to the Criminal Justice Section, the Standing Committee on Legal Aid and Indigent Defense and the Standing Committee on Delivery of Legal Services.
I have served as chair of the House of Delegates Committee on Technology and Communications, vice-chair of the House's Select Committee and as a member of ABA the Standing Committee on Science and Technology and the Standing Committee on the Delivery of Legal Services. I was also on the council of ABA's General Practice, Solo, Small Firm Division for two separate terms. Over the past 12 years, I have had the yearly privilege of attending ABA day with the VBA president, president-elect, and executive director, lobbying our congressional delegation to fund Legal Services Corporation and on other issues of importance to the ABA and the VBA.
I am currently the co-chair of the Vermont Bar Foundation's Access to Justice Campaign.
I am devoted to both the Vermont Bar Association and the American Bar Association and to the important role of supporting the legal profession and providing service to the community. I am honored to be considered for ABA representative to the VBA House of Delegates.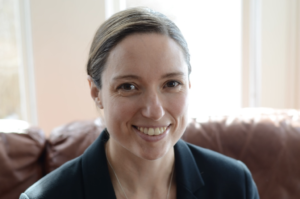 Eleanor L. P. Spottswood:
I am honored to be one of the Vermont Bar Association's nominees for the Vermont delegate to the American Bar Association House of Delegates. The ABA plays an important role in shaping the law and the legal profession. It sets standards for every aspect of legal practice: substantive legal codes, ethical codes, licensing, and education.
As the Vermont delegate, I will work with other delegates to address changes and challenges to the legal profession in Vermont. The number of pro se litigants unable to afford legal services is on the rise, straining a system not built for their use. Many younger lawyers are burdened with student debt and struggle with the high cost of living, small job market, and relatively low wages in Vermont. Although law schools have made progress in expanding clinical programs, graduates still need mentorship and practical experience to become successful practitioners.
I will support creative approaches to these problems, from access to justice issues to the continued relevance of legal education and licensing requirements. As the at-large elected attorney member of the Judicial Nominating Board, I have made connections with attorneys across the State and listened to their systemic concerns. As the Chair of that Board, I led a politically diverse group through a collaborative revision to our procedures, incorporating updated anti-bias principles and conforming our work more closely to the statutory selection criteria. I will bring the same skills to work as Vermont's ABA delegate. I will seek out feedback from the bar; I will promote Vermont's successful innovations, such as the option to read for the bar exam; and I will work with other delegates to search for and implement solutions to our collective challenges.
Thank you for your consideration of my candidacy. I welcome your questions and comments.