The Justice Advocacy Initiative at Vermont Law & Graduate School is hosting a mixer for students and Vermont criminal law practitioners to come together and talk about, "Growing Pains of Early Attorneyhood." It will be held Thursday, April 27th, 2023, beginning at 6pm, in the Yates Common Room at the VLGS campus in South Royalton.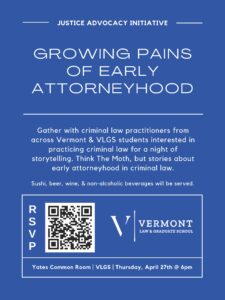 The mixer is described by organizers as a storytelling event: "Think The Moth, but with prosecutors and defense attorneys," says Natalie T. May, JD '24.  "We are gathering criminal law practitioners from across Vermont to engage with colleagues and VLGS students interested in practicing criminal law. Criminal practitioners from around the state will share stories from their early days as attorneys – the learning curve, the mistakes made, their successes, and their failures."
Sushi, beer, wine, and non-alcoholic beverages will be served.
This is a first-time event, but the hope is to make it an annual rite of spring.  If you can make it please RSVP with your Google account, click here.  For more information, please contact: nataliemay@vermontlaw.edu or kellyjohnson@vermontlaw.edu