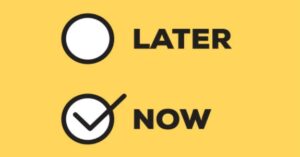 Procrastinators. We all resemble that word, don't we?  Well, procrastinators and early birds alike will want to join us the week of June 21st!  Procrastinators' Week has got everything you need and more.
For your Diversity and Inclusion credit, we will be offering Questioning the Computer: Racial Bias and Civil Rights Violations in Algorithms on Monday and Fair Housing 101 for Attorneys on Friday.  For your Ethics credit, we will be offering the ever-popular Ethics Pub Quiz on Wednesday and All Things Malpractice on Thursday.  We will also have our Mindful Moments for Wellness covering your attorney well-being credit on Tuesday.
Are you active in the Real Estate or Environmental fields? We have that covered with Transferring Property with Solar Panels on Tuesday, E-Court Odyssey in the Environmental Division and Real Estate Tax Basics on Wednesday and Bianchi: The Planning Act, SoL's and Constitutional Standing on Thursday.
Need a variety of general MCLE credits? We've got that too: How to Protect your Firm from Cyber Attacks on Monday, Vermont Criminal Law Basics on Tuesday, Considerations in Economic Damage Cases on Thursday and Everything you Always Wanted to Know About Cannabis Law on Friday.
The week is just jam-packed with quality CLE's offered by knowledgeable Vermont practitioners at the low rate of $20/credit-hour, so what are you waiting for? Check out all the details and register here: https://www.vtbar.org/event-calendar/  See you there!