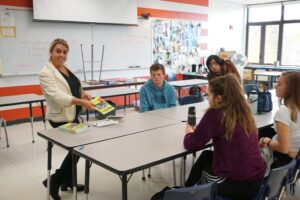 Maybe these kids! Annika Green and Jennifer Emens-Butler went to U-32 this week to speak with Sophomores and Juniors for career day.
On Your Own: Your Legal Rights at 18
booklets and pocket constitutions in hand, Annika and Jennifer told the two groups of kids all about the education prerequisites and the practice of law in Vermont.
Substantive areas such as criminal law and bankruptcy were discussed, but much time was also spent on the general skillset required to become a lawyer and how those skills can be used in a multitude of fields, within and outside the practice of law.
Students asked pointed questions about how lawyers in tough fields take care of their own personal wellness–an astute and timely observation– and also how they handle their own biases in difficult cases. There was also talk about international policy work, the environment and so much more. Even the teacher had his own questions. The second session was an all-girl group, so we made sure to let them know that women are needed in equity positions in law firms and encouraged them all to dream big!
Please join us as we strive to improve the public perception of lawyers, even if it's for one kid at a time!
The VBA has pocket constitutions for all ages and On Your Own booklets for seniors as well as references for discussions on constitutional law for lawyers to go into schools to discuss legal rights.
Going to career day at your school? Please let us know and we can highlight your story on our social media and news pages.
We know lawyers work tirelessly to help others, yet still struggle with a poor public perception.
Why not take the time to inspire our youth about the fascinating, rewarding, noble, challenging and fun (yes fun!) practice of law? The VBA will see you there.