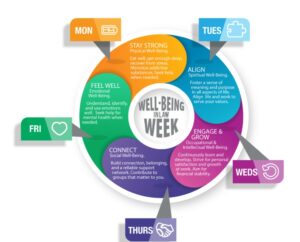 Don't forget that next week, starting May 3, 2021 is Well-Being in Law Week! Started a few years ago in recognition of the record numbers of lawyers suffering from depression, addiction, burnout and debilitating stress, this dedicated week gives us tools and ideas to assist us in focusing our attention on our own wellness. Not only does this shift help us better assist our clients more competently, it contributes to our general health and well-being. Many of you have attended some of our Mindful Moments for Wellness programming and, while it's not for everyone, consider this recent feedback we received:
Every attorney I know has found themselves in the middle of oral argument confident that they have thought of every angle only to be caught flat-footed when opposing counsel or the judge produces some theory or question, relevant or not, that you didn't consider.  I have literally seen attorneys physically slump at counsel table, in front of a full courtroom and you know their minds are scrambling for a response.  Samara has taught us how, in just a few moments, to clear our minds so that we can think clearly instead of admonishing ourselves to quick, come up with something, while everyone is watching. It even helps when you're sitting calmly writing a memorandum of law or some crazy detailed motion and find yourself going down a bunny trail, completely off point.  You close your eyes, take a couple deep breaths, clear your mind and get back on task…

And I don't know one extroverted lawyer, like myself, who isn't sick of working from home and craving actual human contact.  But this is the world we currently live in and Samara's classes have helped me tremendously to cope with these day to day frustrations. I have such a sense of calm, even after the half hour sessions (the hour sessions are nirvana) that allows me to take stock of where I am and regroup. The breathing exercises have been especially helpful.  I do some every night and sleep much better. I'm even more conscious of clenching my jaw so I can do a quick movement and even that small action pushes my shoulders down and I relax. The stretches help alleviate the other myriad of tension I hold on to.

A calm, clear-headed attorney is a better attorney.  A stressed out attorney does themselves harm and probably not as effective as they would like to think they are. I am so grateful to the VBA for introducing the Wellness program and to Samara for being so effective and for giving up her time to help us…I am so glad I belong to the VBA!
Vermont's Bar Counsel, Mike Kennedy, recently blogged, too, about how a focus on wellness isn't for everyone, but he stresses that: "Each member's journey to wellness and well-being will be along the path of their choosing." https://vtbarcounsel.wordpress.com/2021/04/28/lets-light-some-candles/   In this blog, he's offering zoom sessions next week for people to share ideas and tools about well-being (except for Monday which is physical well-being day–go for a walk!).  We commend you to check out Mike's blog and join him in his quest.  Also don't forget to check out all the tools available on the lawyer well-being week site: https://lawyerwellbeing.net/lawyer-well-being-week/ 
Through Samara Anderson's generous volunteerism, we will continue to provide our Mindful Moments for Wellness series, which remains popular among loyal followers and new credit-seekers alike.  Samara will also be offering a well-being offering during our Procrastinators' Week, starting June 21, 2021.
We will continue to endeavor to reduce our members' stress by providing these offerings, much needed quality CLE credits of all kinds and helpful resources (COVID-19, well-being, practical, LPM and the like) on our website and VBA Connect online communities. See you next week in Mike's zoom room!