The Young Lawyer's Division hosted a mixer at the Saxton's River Distillery in Brattleboro on July 27.  Attendees were treated to hors d'oeuvres drinks courtesy of CVG (Costello, Valente & Gentry, PC).  The mixer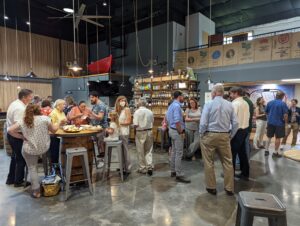 was organized by past YLD president James Valente of CVG.
The event had a good turnout of about 30.  Several candidates stopped by, including Mike Pieciak, Molly Gray, Charity Clark, and Christina Nolan.  CVG's own Margaret Shugart, "on information and belief, the only lawyer-sommelier in the State," as per Valente, was on-hand and "did a great job with cheese pairings for the Saxton's River spirits."
The mixer was one of a series of events being hosted by the YLD to bring members of the legal community together to socialize in that good old-fashioned pre-pandemic way.  The next one is the YLD End-of Summer Barbecue to be held on Sunday, August 28th from 4 to 8 PM at  Oakledge Park in Burlington.
Catering for the barbecue will be provided by Harmony's Kitchen and will include fried chicken, mac & cheese, and Cajun green beans (vegan options provided). Attendees to the barbecue are encouraged (but not required) to bring a side or dessert to share. These YLD events are open to all members of the legal community (you don't have to be a "young lawyer").  Families are also welcome and encouraged to attend the barbecue.