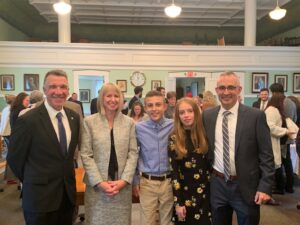 Governor Phil Scott swore in Kerry Ann McDonald-Cady of Dover, Vermont as a Vermont Superior Court Judge before a packed courtroom at the Newfane County Courthouse on October 30, 2019. Judge McDonald-Cady replaces former Judge David Howard and will serve in Bennington and Rutland Counties. Judge McDonald-Cady has served as a deputy state's attorney in Windham County, primarily in the juvenile docket, since 2010. Prior to her work in the Windham County State's Attorney's Office, she worked as an associate at Fisher & Fisher and also served on the Dover School Board. In 2010, she received the Vermont Justice for Children Task Force award for "Exemplary Child Protection and Juvenile Justice Work."
At the swearing-in ceremony, Chief Trial Judge Brian Grearson welcomed the standing-room-only crowd and spoke about the transition from the bar to the bench. He cited two rules a veteran judge shared with him when he was first appointed to the bench: (1) Don't write if you can speak; don't speak if you can nod; don't nod if you can smile and (2) If rule #1 fails, call a recess.
Windham County State's Attorney Tracy Shriver also addressed the crowd, noting what an exemplary and dedicated lawyer McDonald-Cady had been during her service as a deputy state's attorney. She noted one time in particular when McDonald-Cady was working at a time when she was off. When Shriver asked her why she was still working, McDonald-Cady explained she was finishing up a Vermont Bar Journal article she was submitting about a recent juvenile law decision. Shriver said that was an example of McDonald-Cady's complete dedication to the profession.
Supreme Court Justice Karen Carroll also spoke glowingly of McDonald-Cady appearing before her numerous times in the difficult juvenile docket. Noting that McDonald-Cady was always prepared, articulate and respectful, Justice Carroll stated that those same attributes will serve her well on the bench. She encouraged McDonald-Cady to take full advantage of the support that her fellow judges willingly provide to one another.
Governor Scott described how pleased he was to make the appointment. Noting how independent courts are essential to a free and just society, he said he was proud to appoint McDonald-Cady and he was confident that she would serve with respect, dignity and fairness.
After being sworn-in, Judge McDonald-Cady spoke "from the heart," expressing her gratitude to the many mentors who shared so willingly of their time and expertise during her legal career, including: Charlie Bristow, Justice Carroll, Judge Durkin, Sue Buckholz, Robert Fisher, John Campbell and Tracy Shriver. She also thanked her family, in particular her husband Attorney Chris Cady and their two children, for their unconditional love and for inspiring her to do her very best every day. She is very much looking forward to listening to Vermonters and to applying the law fairly and truthfully in her new role.