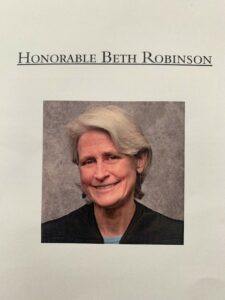 The Hon. Beth Robinson was sworn in as a United States Circuit Judge for the Second Circuit Court of Appeals at the United States Courthouse and Federal Building in Burlington on June 24. The Hon. Debra Ann Livingston, Chief Judge for the Second Circuit, welcomed the family, friends, and colleagues who packed the courtroom, thanking them for sharing in such a special occasion. Noting Judge Robinson's breadth of experience on the Vermont Supreme Court, Judge Livingston shared that Judge Robinson was the second former Vermont Supreme Court Justice to join the Second Circuit, the first being Judge Harrie Brigham Chase who served as a Second Circuit Judge from 1929-1954.  Judge Livingston wished Judge Robinson a similar length of term.
Judge Robinson's nieces Hannah and Becca Kimyon and nephew Dawson Kimyon then treated the crowd to a beautiful rendition of "America the Beautiful".
Judge Livingston introduced Judge Robinson's law clerk Briana Hauser, who regaled those in attendance with many examples of how "BR" epitomizes enthusiasm, humility, and fantastic mentorship for all those who have the good fortune of working with her. This mentorship includes not just robust intellectual exercises but also races down Mt. Philo in sleds at break-neck speeds. Praising Judge Robinson's "brilliant mind and boundless heart", Briana spoke for all of Judge Robinson's law clerks over the years in expressing her gratitude for Judge Robinson making them all "not just better lawyers but better people."
Susan Murray, Judge Robinson's long-time colleague at Langrock, Sperry & Wool, spoke movingly of her friend's integrity, commitment to justice, and humility especially during the many years that they worked together to further marriage equality jurisprudence. Susan said that Socrates, describing four attributes of an excellent judge, summed up Judge Robinson's judicial qualities perfectly: "to hear courteously, to answer wisely, to consider soberly and to decide impartially". Clerk of Court Catherine O'Hagan Wolfe then read the Commission, Judge Livingston administered the oath, and Judge Robinson's spouse Kym Boyman proudly conducted the robing ceremony.
Judge Robinson then also addressed the crowd (but not before her mother in attendance from Indiana discreetly motioned that her daughter needed to adjust the collar on her new robe!)  Judge Robinson thanked the colleagues, friends and family who had journeyed with her during her legal career, noting with humor a high school friend's comment in reaction to a question about Judge Robinson's experience on the bench when she was first named to the Vermont Supreme Court. The friend asked with surprise, "Aren't they familiar with your high school basketball career?!"  Judge Robinson also thanked the Vermont legal community. She shared that when the ABA representatives contacted many in the bar as part of the nomination process, the representative indicated that she "was jealous of the Vermont bar because it is so truly special: "Not only did everyone return my phone calls and answer my emails [which apparently doesn't happen in every state] everyone knew everyone else I had spoken with and had really nice things to say about them."
Judge Robinson gave special thanks to Maria Dunton, Judge Peter Hall's widow, for being in attendance, saying that it was her one regret that Peter was not there, but that she felt his presence through Maria.  Judge Robinson concluded by stating that it was an honor to be part of the Vermont legal community in all the various capacities in which she has served.   A video of the ceremony can be viewed at Beth Robinson | Induction Ceremony – YouTube .