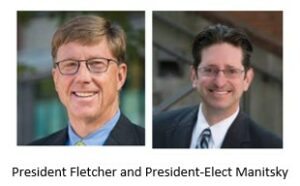 Congratulations Bob Fletcher, Andrew Manitsky, Jessica Bullock, Rich Cassidy, Kate Lamson and Jordana Levine! With all the excitement of our annual meeting and the pictures of the changing of the Presidential guard, we neglected to highlight the other changes to the VBA Board of Managers, brought on by the elections at our Mid-Year Meeting (and one interstate move).  Please do check out our Board of Managers page on our new website to see all of our VBA board members. The Board of Managers is here to serve you, our members, so please feel free to contact them with any issues you'd like the VBA to address.
With Elizabeth Kruska passing the gavel to Bob Fletcher, board member Andrew Manitsky, at that moment, became President-Elect. And while the heartfelt goodbye to Molly Gray and Beth Novotny was captured in pictures from the meeting, we did not get the opportunity to more formally welcome our newest board members on their first official day of office.  Please welcome new members Jessica Bullock, Rich Cassidy and Jordana Levine who all took the reigns on October 7th at our board meeting.  Finally, please welcome Kate Lamson who, while also new, has been serving on the board for several months after Katelyn Atwood relocated out of state.  When you visit the page, you can also see the latest YLD representatives on the VBA Board of Managers—Pam Eaton, Kevin Lumpkin and James Valente.
Congratulations President Fletcher, President-Elect Andrew Manitsky and all new board members and best of luck for an exciting and productive year to come at the VBA!