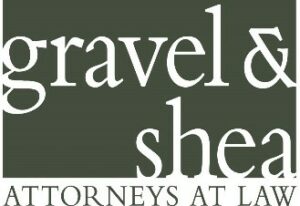 Estate Planning and Probate Administration Paralegal
Prominent mid-size law firm in downtown Burlington, Vermont seeks paralegal for our estate planning and probate administration practice. The successful candidate will have a strong work ethic; excellent writing and communication skills; fluency in Microsoft Office programs and adaptability to technology generally; good time management skills; and the flexibility to work with multiple attorneys. Qualified candidates must have prior estate planning and trust administration experience, including drafting estate planning documents, deeds and property transfer returns, probate court filings and other trust administration duties.
We care most about excellent analytical, organizational and communication skills and initiative. We offer a competitive salary and benefits package including health insurance, 401(k), paid parental leave and profit sharing.
For more information about Gravel & Shea, please visit:
Careers – Gravel & Shea PC (gravelshea.com).
A qualified candidate should promptly submit a cover letter, résumé and at least one writing sample by clicking on the APPLY NOW tab in the job description.
Gravel & Shea PC is an Equal Opportunity Employer